pulse counter with CNY70
Posted: 29 Jan 2016, 14:48
Hi folks,
I could use some tips. I'm considering to build a pulse counter for my water meter using a CNY70 (
http://www.vishay.com/docs/83751/cny70.pdf
) based on what Jasper is describing (
http://jasper.sikken.nl/gwemeter/index.html
):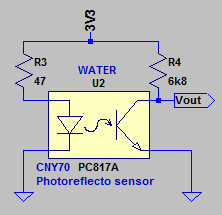 However, following his advise, Vout is roughly within the range of 3.3V(reflection) and 2.5V (no reflection). What would be the best way to hook this up to an ESP using ESPEasy? Is that possible or do I need to put a Schmitt trigger in front of it to make a nice 0/3.3V switch or can I reduce the range to <1V and connect it to the analog pin (ADC, can only go to 1V)?
Tips are greatly appreciated

Cheers,
Danny