Hi there,
I got my hardware today, goal is to control both RTS stores and regular 433.920 garage doors.
This topic is about the garage door issue, I set the RFLink into learning mode then push the buttons of my remote, nothing happened on the terminal, while I was receiving neighborhood signals.
The remote is a Proem ER2C4 ACD 433.920 Mhz remote I bought on Amazon recently
https://www.amazon.fr/dp/B00WTHPQVU?psc ... ct_details
, which is programmed with switches, and according to its frequency, might be compatible with RFLink?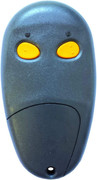 My objective was to record both buttons signals to be able to reproduce them after, using Home Assistant
Anyway, if one of you guys could put me in the proper direction, that would be great!
Thanks